In addition to the leadership group, there will also be a project team that does the day-to-day work. The project team will start out as a small group of staff who are assigned the responsibility of planning and implementing the project and will be led by a department head or senior staff person. As the project develops from an idea into a vision, the staff project team will help the leadership team throughout the process of hiring the design consultant and other key consultants required to implement the project.
For a large project, the project team will meet regularly – often several meetings per week – to review work, brief and update other project leaders and stakeholders, and develop the project from a vision to a concept and through detailed design and construction. Over the duration of the project, the project team will grow from a small handful of people to include tens if not hundreds of team members as the consultant team grows and the contractors are brought on board. This project team will be a combination of city staff, their consultants, and, during construction, the contractors.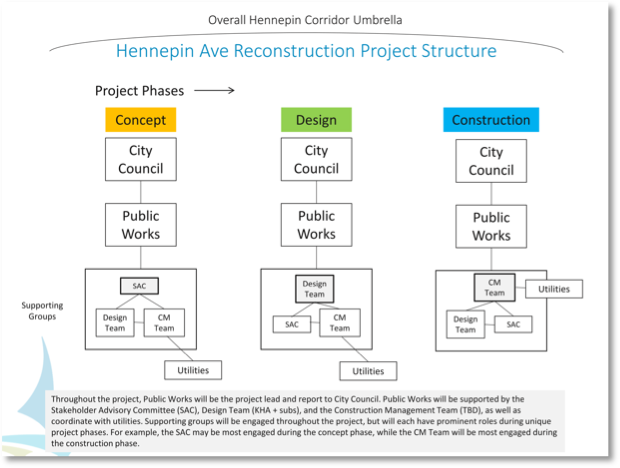 Over the duration of a project – anywhere from three to ten years – the composition and leadership of the team will change and shift. Key people will join the project and may also move up or move on. For a project that is going to last five years, the team structure has to be able to allow for change and growth as the project moves from one phase to the next. The diagram above was created at the beginning of the Hennepin Avenue project to figure out and plan for how the project would run during the three main phases of concept design, detailed design, and construction. The idea is that the "Stakeholder Advisory Committee" or "SAC," primarily leads the vision and concept phase, with the support of City staff and the design team; the design team leads the detailed design phase with input from the SAC and the construction management (CM) team; and the CM team leads the construction phase with the support of the SAC and the design team. All three of those teams are present throughout the duration of the project, each influencing one another's work, but depending on the phase, a different team  – the one with the greatest role to play at that time – is in the lead.