3.6 The Operating Budget: An Example
Once the capital project is complete, normal operations begin. Unlike the capital project, ongoing operations require constant funding. While raising millions for a big project one time may seem like a big hurdle, raising several hundred thousand dollars a year in perpetuity can be as difficult or even more so – because it never ends. The following operating budget is based on two models – a "base budget" that reflects the minimum costs (and funds required) to fully operate the park. The second "add'l income" budget is based on an increased amount of contracted and rental programming as well as an increased amount of sponsorship and charitable support. The bottom line shows the gap between income and expense. In this case, the base budget is balanced but the add'l income budget – a larger budget based on more income-generating programs and events that requires more funding – does not attract enough funds to cover costs.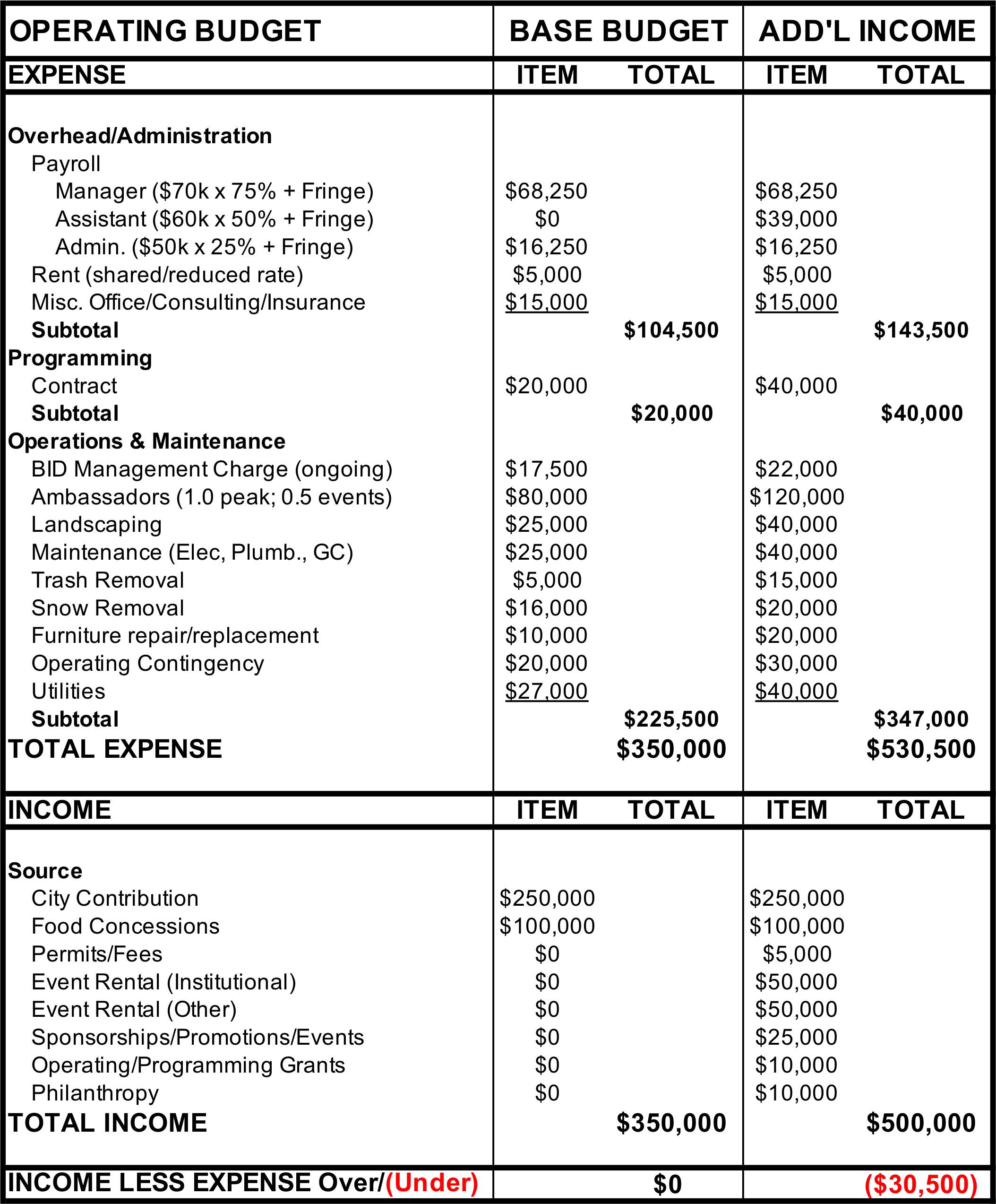 Types of Operators
There are a number of different operating models for public places based upon the type of facility, use, operating and maintenance needs, and a variety of other factors. Typical operators of public places include:
City Government (or special district, county, state, federal government)
Parks Department of City (Saint Paul Model)
State and Federal parks departments (for example, the US Department of the Interior owns and operates some parks along the Mississippi River)
Independent Park Board (Minneapolis model)
Non-profit Park Foundation (for example, the Minneapolis Parks Foundation, although the MPF's primary mission is to raise funds in support of MPRB park projects)
Business Improvement District or "BID" (For example, the Minneapolis Downtown Improvement District or MDID)
Non-profit Conservancy (For example, Green Minneapolis)
Private Property Owner ("Privately Owned Public Spaces" or "POPS," such as Mozaic Art Park and Pedestrian Bridge in Uptown Minneapolis and Xcel Energy Plaza in Downtown Minneapolis)
Other/Combination of several of the above
"About The Minneapolis Park and Recreation Board (MPRB)
Minneapolis is unlike many other cities when it comes to the ownership, management, and stewardship of the park system. In most cities, the local "general purpose government" – the city – owns, operates, maintains, and funds the park system. This is how the park system is operated in Saint Paul, for example, and in most American cities. But in Minneapolis, over one hundred years ago, our city's leaders decided to create the MPRB as a separate unit of government with its own elected board of directors – the Park Board. The Park Board is funded by its own share of local taxes. The City levies these taxes and collects them but is required to pass them through to the park system. The idea is that the city cannot choose to cut funding to the parks in lean times. It's not necessarily a good or bad structure, it is just different and it presents different challenges and opportunities.