7

Can I do activities with the Developmental Affirmations?

Oh yes! You can invent activities and games that fit the ages and stages of the people you are with. The book "139 Ways to Use Affirmations" by Jean Illsley Clarke and Carole Gesme, offers activities for many ages and purposes.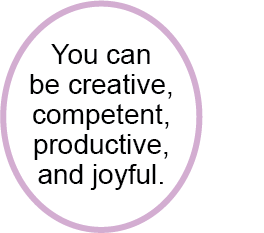 You can be creative, competent, productive, and joyful.
Interdependence — Stage 7
*
DIGGING DEEPER: view the book 139 Ways to Use Affirmations.
Click here to download a PDF of the book.
In this book you will see a wide variety of activities that use the Affirmations. You can purchase colored punch out ovals. You can make your own ovals by printing out the Affirmation Bookmarks on firm white paper or on rainbow colored paper and cutting them up.
You can use the strips as bookmarks.
You can stick them to your bathroom mirror or refrigerator.
Fold one to carry in your purse or wallet.
Use them as a screen saver.
Give a set to everyone as an activity opener.
Activity Opener
Give each group member a set of Affirmation Bookmarks.
Ask each person to choose three that will help them get what they want out of today.
Ask each person to read aloud your chosen three to you.
Offer to read their chosen affirmations to others.