16

What is the sub-set of affirmations called the Love Affirmations?

The Love Affirmations are the ones that say, "I love you unconditionally for being yourself and for doing the developmental tasks of your stage." They are marked with hearts on the Developmental Affirmations handout (see also Question 2: Where is a list of the Developmental Affirmations?). They are the messages placed at the right ends of the Affirmation bookmarks. There is a template of the Affirmations as bookmarks that you can print and use.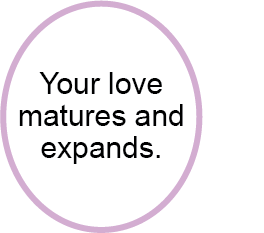 Your love matures and expands.
Interdependence — Stage 7
*
DIGGING DEEPER: LEARN MORE ABOUT THE LOVE AFFIRMATIONS.
The Developmental Affirmations are all based on love. See more in Chapter 18: What if I don't know about the Developmental Stages?