9

Can I use them for myself?

Yes. They are all healthy messages. Use them in any way they are helpful to you.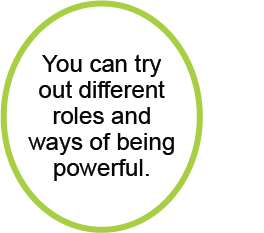 You can try out different roles and ways of being powerful.
Identity and Power — Stage 4
*
DIGGING DEEPER: more ways to use Affirmations for yourself.
Pick out one to four messages you want to give yourself.
Carry them in your purse or wallet, or on your cell phone, and read them often.
Put one on the dashboard of your car.
Carry them in your pocket.
Tell a trusted, nonjudgmental friend about them and how they will make life better. Focus on the present and the future. Let the past be the past.
Talk with other people who are exploring the affirmations and get ideas from them.
Sing them.
Journal about them.
Turn them into a dance.
Practice reading them out loud to help yourself by hearing them. One dad read them out loud to his dachshund for many days. Only when he became comfortable hearing them in his own voice did he offer them to his family.