99

Magnocellular and Parvocellular pathways
Know the differences between the magnocellular and parvocellular pathways.
Know how the M and P pathway are organized in the LGN.
There are two visual nuclei in the thalamus: the lateral geniculate nucleus (LGN) and the pulvinar, which we won't talk about. Neurons in the LGN have receptive fields that are center/surround like the retinal ganglion cells. The LGN has 6 layers, segregating inputs/outputs according to the eye of origin, which eye the information is coming from, on- or off- receptive field, whether the center is excitatory or inhibitory, and magnocellular or parvocellular pathway (more details below). The names of the pathways come from the fact that the retinal ganglion cells have large (magno) or small (parvo) cell bodies. It's useful to think of two streams of information coming from the eyes to the brain.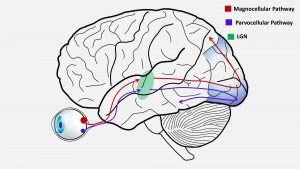 The magnocellular pathway carries information about large, fast things (low spatial frequency, high temporal frequency) and is colorblind. The parvocellular pathway carries information about small, slow, colorful things (high spatial frequency, low temporal frequency).

CC LICENSED CONTENT, SHARED PREVIOUSLY
Cheryl Olman PSY 3031 Detailed Outline
Provided by: University of Minnesota
Download for free at http://vision.psych.umn.edu/users/caolman/courses/PSY3031/
License of original source: CC Attribution 4.0
Adapted by: Katya Tomlin