Module 13: Intro to Dermatophytes
Module 13.2: Common Tests Used to Identify Dermatophytosis
Common tests used to identify Dermatophytes
In this section, we will discuss the common patient-side testing done to diagnose dermatophytosis. These tests are Wood's lamp, trichograms, and fungal culture.
Wood's lamp
This test is a screening test that uses a black light to identify Microsporum canis. M. canis produces a metabolite that coats the hair shaft and glows a bright green apple florescence. Other dermatophytes do not produce this metabolite and do not fluorescence under the Wood's lamp. This test is quick and easy but only can identify approximately 50% of M. canis infections, as not all infection produces enough metabolite to glow. This means a negative result does not rule out the presence of M. canis (the test has a low sensitivity). Additionally, many other substances including fibers, detergents, urine, and semen will fluoresce under a woods lamp. To increase specificity, broken hair from the affected part of the lesion should be plucked and evaluated for fluorescence and a trichogram concurrently performed. Fungal culture should be used for a definitive diagnosis.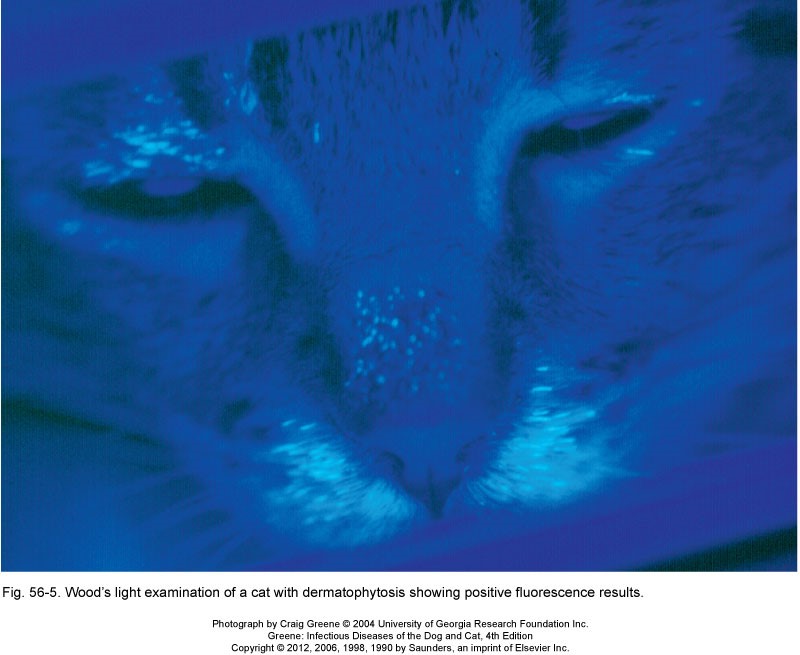 ---
Knowledge check
---
Direct Microscopic Hair Exam or Trichogram
This test involves hair being plucked from the patient and mounted on a slide with mineral oil or potassium hydroxide incubated overnight for identification of arthrospores (Image A and B). You can also use the Wood's lamp on the hair that was plucked from the patient to help determine if the arthrospore identified is possibly M. canis.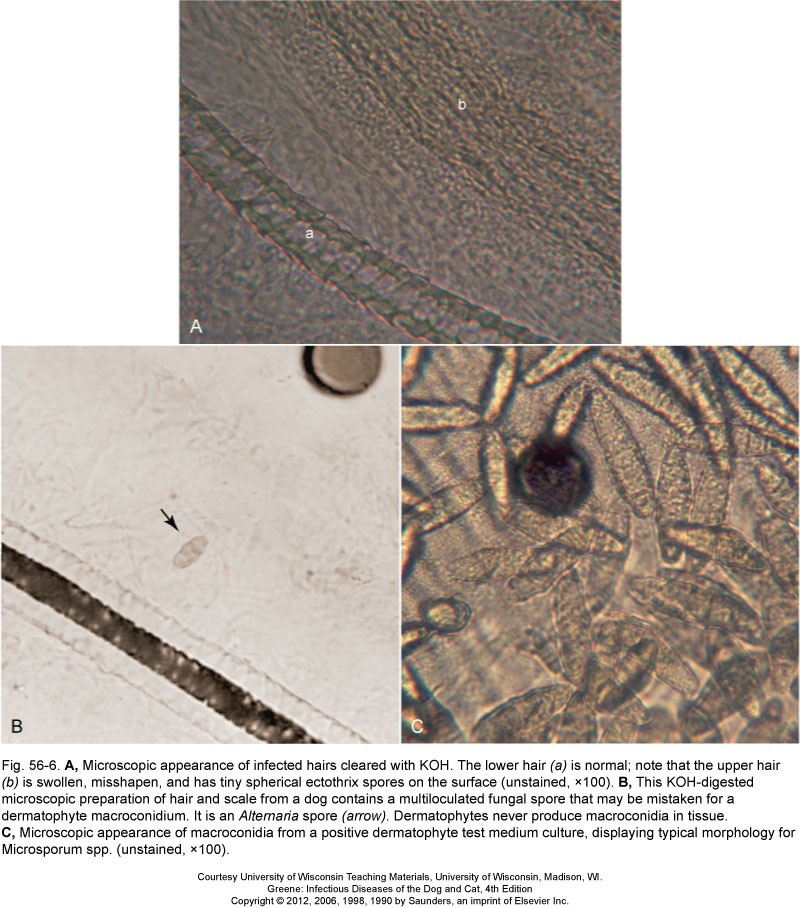 ---
Knowledge check
---
Fungal culture
Culturing dermatophytes requires specific dermatophyte test media (DTM) to promote the growth and proliferation of macroconidia from the arthrospore. DTM is one of the most common in-clinic laboratory tests used to definitively diagnose dermatophytosis.
Collection technique
The most important step for this test is collecting enough arthrospores on the patient to result in a positive culture. A common technique for sample collection is using a sterile toothbrush that is brushed over the entire animal. In cats, the regions of most importance to brush over are ears and near eyes. Alternatively, plucking individual hairs from the leading edge of the lesion that appears broken. Increased success has been demonstrated when a wood's lamp is used to help identify glowing hairs for sampling. For more info on the collection technique: http://veterinarymedicine.dvm360.com/how-perform-and-interpret-dermatophyte-cultures (Links to an external site.).
Culturing
The collected hairs are gently embedded into the testing medium. (image below). The DMT plates should be allowed to warm to room temperature before inoculating with sample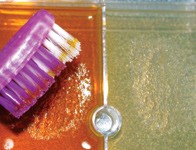 Dermatophytes culture best in a dark room that is incubated between 75-86 degrees F (24-30 degrees C). DTM cultured at room temperature is more likely to result in false positives with environmental contaminants. These plates should be monitored daily for growth and color change. Growth can take up to 21 days depending on the dermatophyte genus. Because of the time, it takes to produce a positive result, you will not be performing a DTM in the laboratory. You will be given samples to evaluate from previously cultured and positive DTM cultures to diagnose.
Interpretation
A positive culture is identified by the simultaneous formation of buff-colored fungal colonies and color change of the media from yellow to red as the fungus utilizes proteins in the media (see images below). The positive culture must be confirmed with the microscopic evaluation of macroconidia to rule out environmental contamination. Environmental contaminates and non-specific fungi that normally colonize animal skin will result in a positive color change of the test medium, but the colonies grown are generally not buff in color.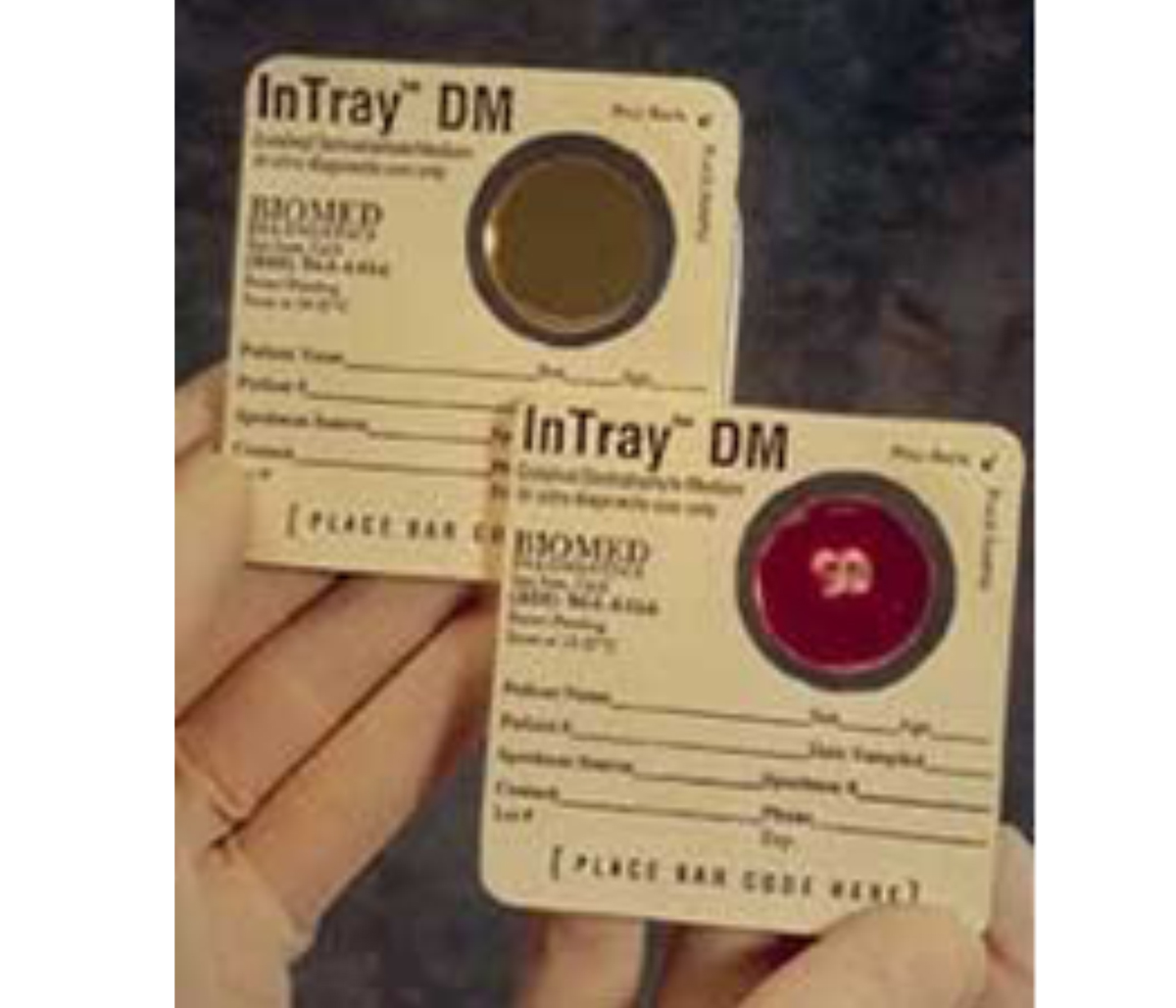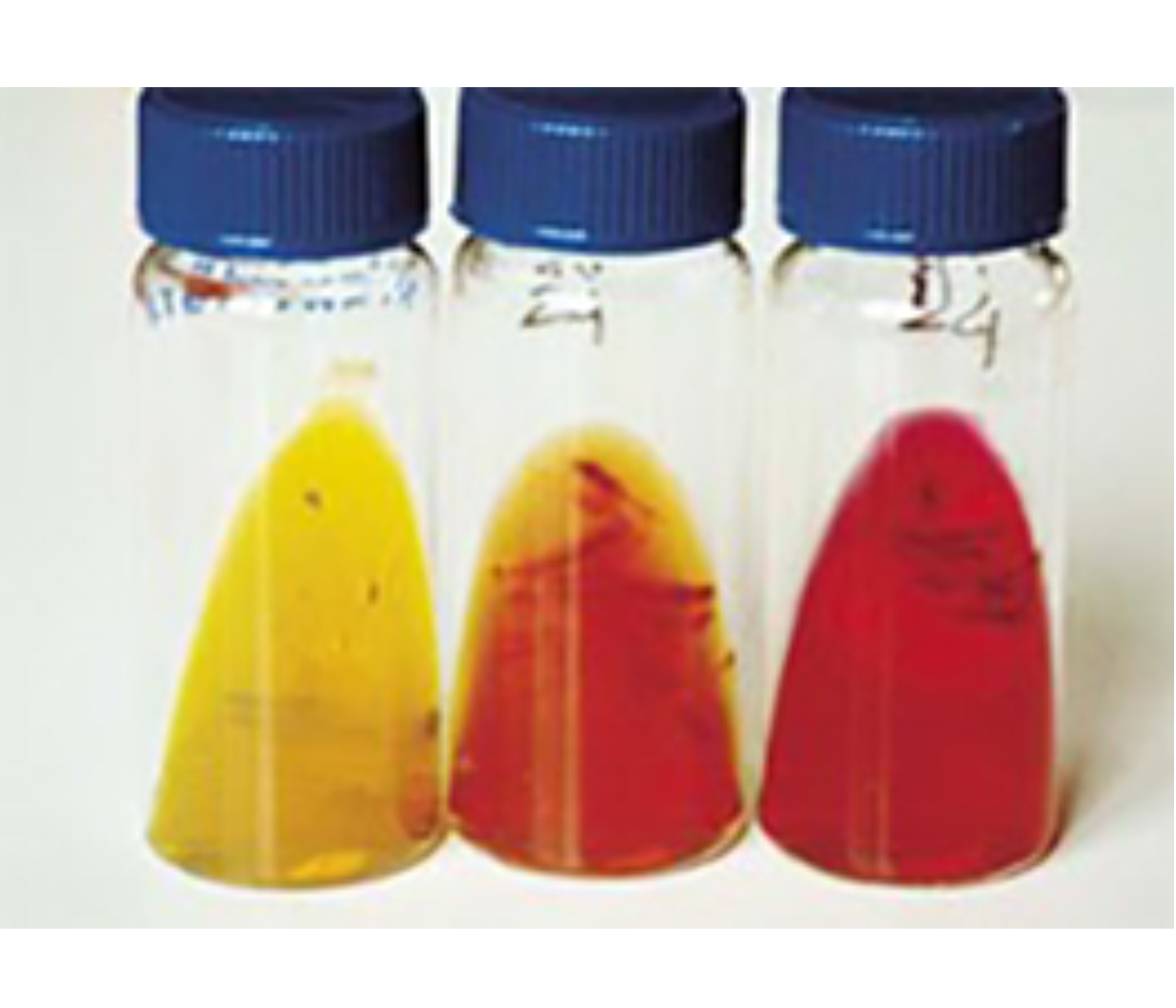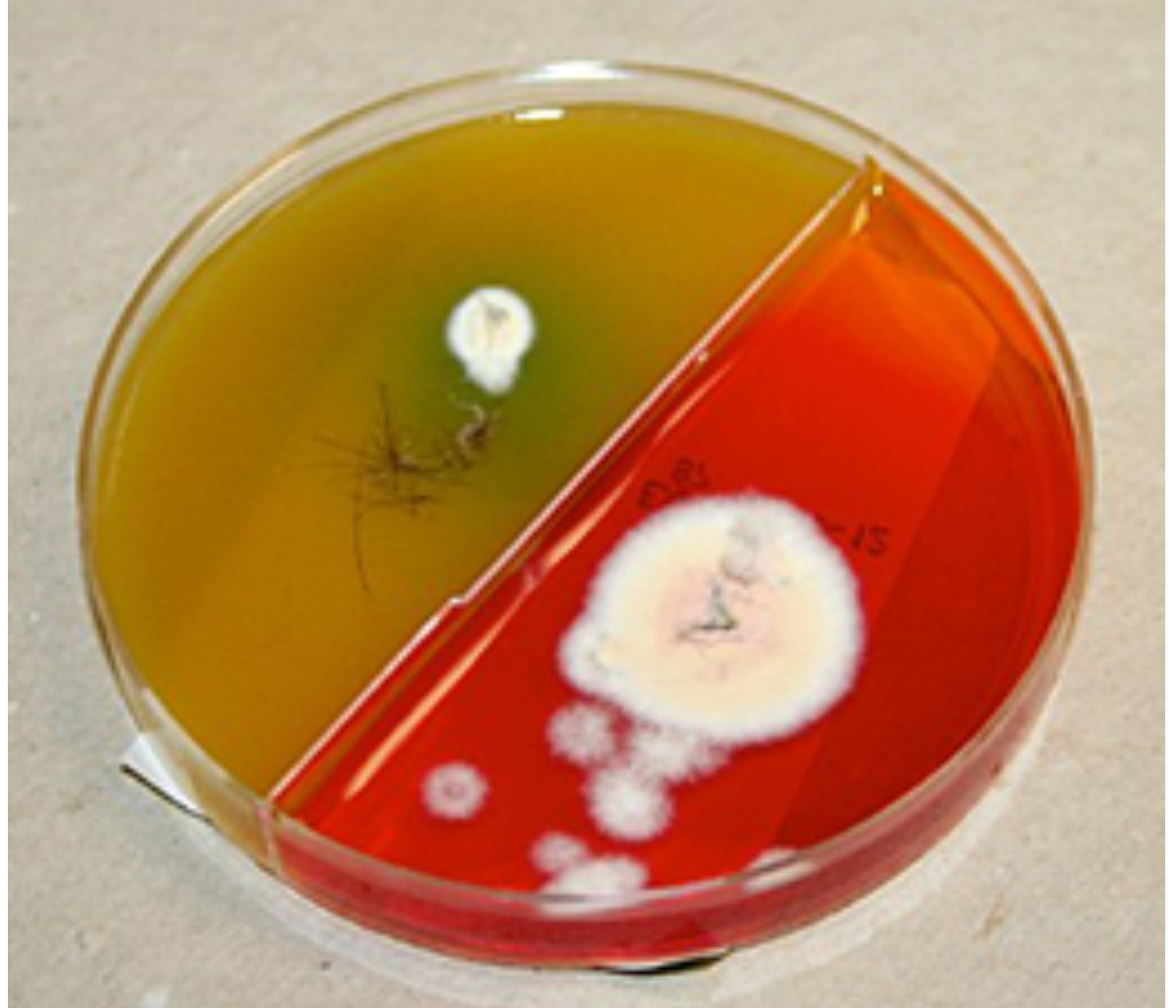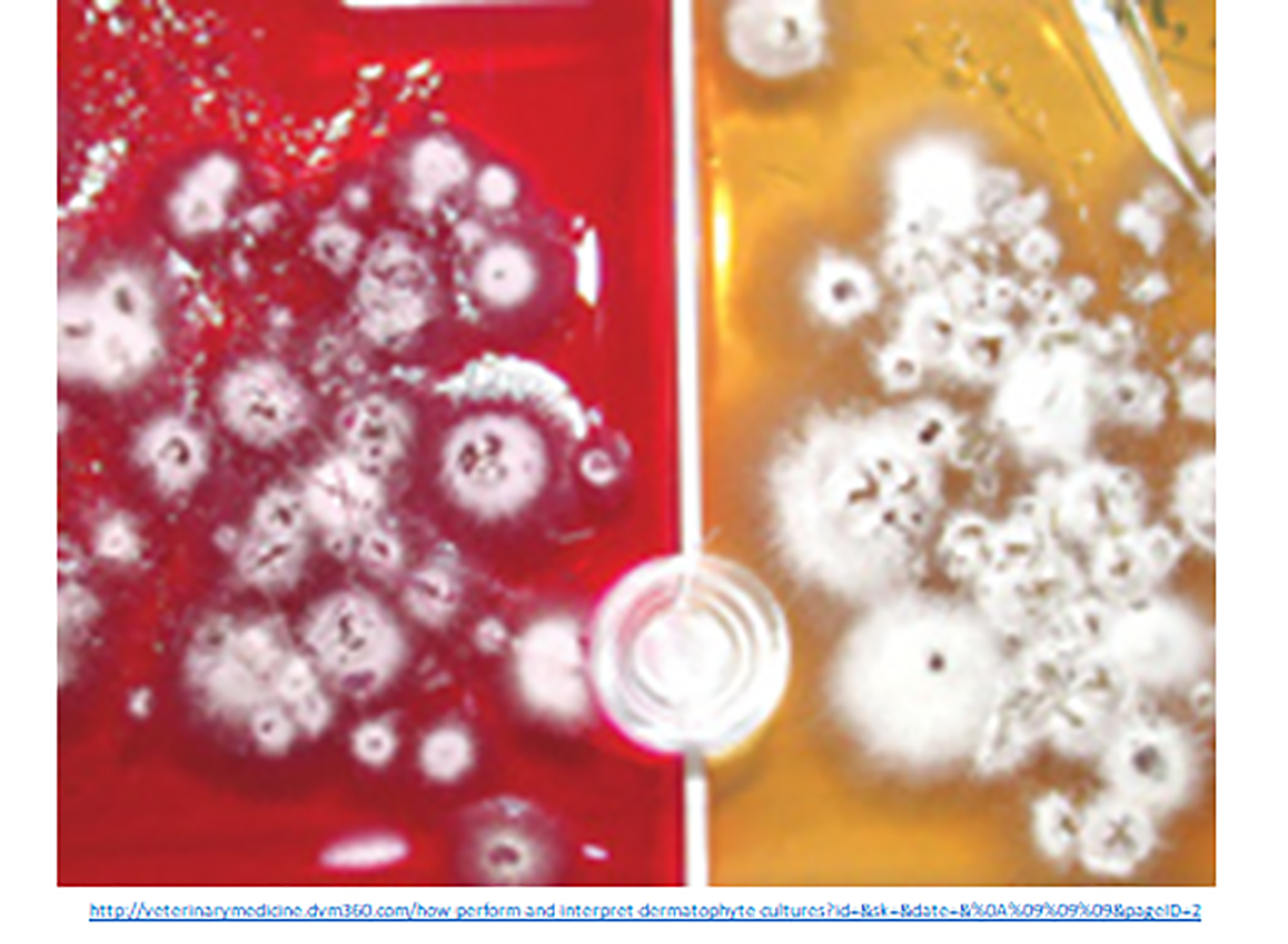 Once a color change is detected, colonies are sampled for microscopic identification to determine the dermatophyte genus and to confirm that the patient is infected with dermatophytes. Acetate tape is used to collect colonies and lactophenol blue stain is used to identify the macroconidia.
We cannot definitively determine the genus or species of dermatophyte based on the cytologic characteristic of the arthrospore, that is why we use DTM to germinate the arthrospores to the macroconidia stage.

The Wood's lamp is a screening test for M. canis. Other dermatophytes will not fluoresce
Trichograms evaluate the hairs for arthrospores.
Dermatophytes from buff colonies on DTM, other color colonies are contaminates.
We use the morphology of the macroconidia to determine the specific genus or species of dermatophytes.
Differentiating different dermatophytes are important for counseling of control measures.
---
Knowledge check