Module 4: Polymerase Chain Reaction (PCR)
Module 4.4: Real-Life Example
Clinical Scenario
You are working in a large shelter and there has been a recent outbreak of kennel cough. You decide to run an RT-PCR Respiratory panel to get a better understanding of the potential respiratory pathogens in the shelter and aid in the development of isolation, control, and vaccination protocols. You chose 4 sick dogs to run the RT-PCR respiratory panel on. The following are results from the Pneumovirus RT-PCR data on those 4 sick dogs.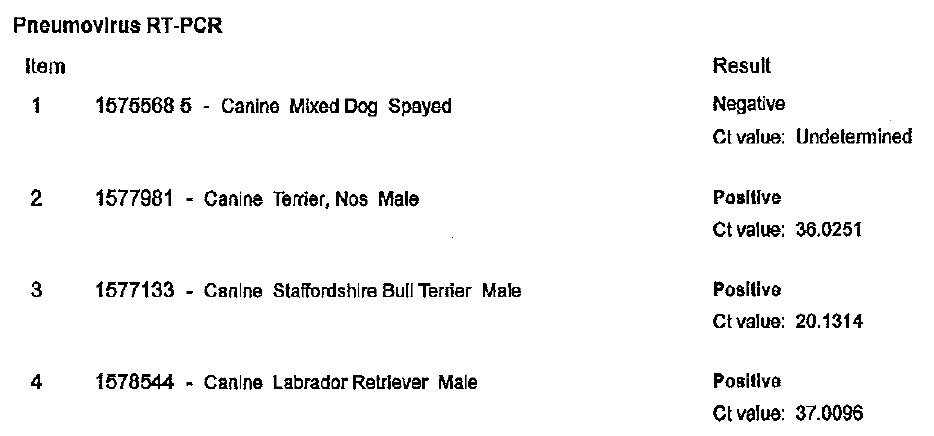 Reference interval interpretation
Table 4.1: Reference interval interpretation for RT-PCR respiratory panel

| Cycle Threshold (Ct) | Interpretation |
| --- | --- |
| Ct < 29 | Strong positive |
| Ct 30-37 | Moderate positivity |
| Ct >38 | Weak positive |
---
Knowledge check
---
PCR is an amplification technique that allows for the detection of genetic material in very small amounts
PCR testing is not always the best choice as an infectious disease screening tool
This test is very sensitive and very specific
High CT values may be an indicator of a false positive
You have now reached the end of Module 4. If you are enrolled in CVM 6925, please go to the Canvas page and take the quiz: "Module 4: Intro to PCR quiz." There is not an assignment or in-person laboratory associated with this module.